Glock 26
Glock 26.The GLOCK 26 is now available in GLOCK's latest generation of perfection. A popular option for concealed carry, the GLOCK 26 now features the GLOCK Marksman Barrel (GMB), delivering increased accuracy with polygonal rifling and an improved barrel crown. Other features include removal of the finger grooves, an ambidextrous slide and nDLC finish.
The Glock 26 is one of those firearms which cannot go wrong. Almost anyone who has ever laid their hands on the G26 is in agreement on this. It's a great little gun, plain and simple. It takes all of Glock's ingenuity and delivers it in a nice compact package. The Baby Glock is a good choice for almost anybody who wants to purchase a firearm and is not sure about where to go with it.
Glock 26 .If your thing is concealed carry, then be prepared. The Glock 26 is about to become one of your best friends. It is a gun which you can simply slide into your pocket, and you're good to go. Alternatively, you can get yourself a holster. There are some very good ones made for subcompact handgun models.
As far as functionality is concerned, the Glock 26 shoots like a dream. It gets the job done with style, in flawless Glock tradition. It's a beautiful gun, and many choose this handgun to be their first purchase.
Glock 26 .With a subcompact like the Glock 26, you should be practicing drawing and cocking as much as you do actually firing the weapon. Because of its size, there are those who have trouble gripping the Baby Glock. Even if you decide to pick up some sort of an accessory, like a grip or sleeve, and even if you think you have it down – the best a shooter can do is practice, practice, practice.
Owning a handgun, especially for concealed carry, is all about being prepared. This is true for civilians, we well as those on the force or in the service. If you want to become proficient with the Glock 26, you must condition yourself and your fingers. Draw, cock, aim, shoot. Practice makes perfect.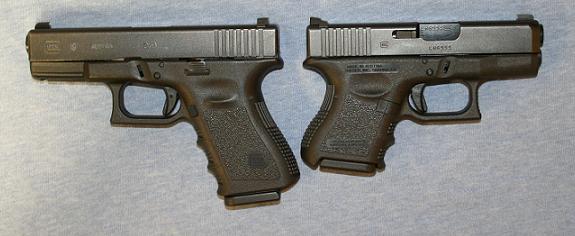 The Glock 26 primarily supports a two-finger grip, but there are factory (as well as aftermarket) extensions available to those who want to extend their grip. The G26 is more than just the 17 and 19's "little brother". When Glock was designing the subcompact, it didn't simply make a shortened version of the Glock 19. The Glock company shortened the slide and barrel, but then the frame, spring, and locking mechanism had to be changed as well.
Glock 26 .Let's take a quick glance over to our other old standbys, the older siblings of the Baby Glock. People often like to compare the Glock 17 vs 19 to see which firearm is considered the "ultimate". The answer, of course, is that there is no one best gun and that different models are suited to different people and purposes. For instance, the G17 has a longer barrel, which can aid in accuracy, while the G19's smaller size lends to easier carrying (whether concealed or open).
The same sentiment rings true for the G26. It is neither better nor worse than the other aforementioned Glock models, but simply different. Only through research, and of course by actually trying out the various guns yourself, can you determine which is the best gun for you.
Glock 26 Technical Specs
Caliber
9X19mm
Length
6.49 inches
Height
4.17 inches
Width
1.18 inches
Unloaded weight
21.71 oz.
Loaded weight
26.12 oz.
Barrel Height
1.26 inches
Trigger pull
~5.5 lbs.
Barrel rifling
Right hand turn, hexagonal
Length of twist
9.84 inches
Magazine – Standard
10 rounds
Magazine – Extended
12 rounds
Magazine – Optional
15 / 17 / 33 magazine, 50 / 100 drum
As with the full and compact versions of the Glock 9mm model, accessories and styling options are widely and readily available in most gun shops, as well as online stores. Cleaning and maintenance are the same for pretty much all Glock models.
You no longer need to compromise. With the G26, you get the ease of carrying and functionality all in one small, simple, and effective gun – that, in a nutshell, is the Glock 26. Furthermore, the Glock 26 gen 4 price is comparable to the costs of both the 17 and 19. Whether you are looking for the perfect backup gun, or for a primary concealed carry weapon – the Baby Glock is one gun which you have to check out.
Thanks for joining us here at EXOCTIC